I took a break from work today to supposedly renew my ECE license because they decided to change it to EcE, in the process effectively removing the Communications part, which I think is kind of stupid considering that the actual industries where the license means something is in telecommunications. Microelectronics companies, mine included, couldn't care less about passing a multiple-choice board exam littered with trivial questions such as nationalities of scientists and launch dates of geosynchronous satellites. Telecommunications companies, on the other hand, place weight on an ECE license because by law, there are things that only licensed engineers can execute.
But I digress. So this morning I woke up and it was incredibly incredibly hot and just the thought of going all the way to PRC which is quite literally filled with grouchy menopausal women (much like
immigration
) makes me want to go shoot myself. And I will never use the license anyway, so I figured to hell with PRC.
I planned to spend the entire day doing nothing, but then Yoshi (the Mighty Mouse) suddenly gave up on me. No more batteries! It shouldn't be so bad, considering that I have been using the same batteries that came with Yoshi for six months already, but it was just so abrupt. The battery meter display is always full whenever I check it; then all of a sudden it's empty. It's so annoying. I mean if it's binary (battery or no battery) then what the hell were the five bars for?
So anyway, I had to go to the mall to buy batteries (and for the airconditioning too). And I figured since I was there already, might as well buy contact lenses. I stopped using contact lenses because I figured that after the
eye horror incidents
my eyes could only take so much abuse. But it's the season for shades, and I love shades, only I can't really see where I'm going because I can't really wear glasses and shades at the same time, can I (unless I buy transition lenses but those are so expensive!)? And last Monday I went jogging because I need to do some damage control (20 pounds in two years - it's getting out of hand) but I can't really run as fast as I would like because I can't see the road.
To make the long story short, I ended up buying all these:
Normally (meaning during the one time I wore contacts) I use Acuvue, because everyone else is using Acuvue. But The Optical Shop didn't have them. Now, I'm a bit partial to this store because after a bazillion eye examinations, they were the only one that produced the correct prescription. All the other glasses I had made me dizzy after sometime. I know I should have checked for the dizziness part while being fitted but I hated walking around with the weird weird spectacle thing.
Anyway, I asked them if I could ask for the prescription from them anyway (because I didn't know) and they were nice enough to look it up for me. And they asked me if I wanted to try Biomedics, and I asked them about it and of course they were going to tell me it's great (which they did) but I'm a sucker like that. I even got EQ'd (meaning my EQ vanished for an indefinite amount of time) into buying the pink contact lens holder because it's cute. Anyway, I ended up buying Biomedics contact lenses, but I stuck to the Solo Care Aqua cleaning solution because it has the best reviews in the net. Besides, the other brand has an ongoing lawsuit about fungal infection or something. And then I went to another mall to look for the Strawberry and Yogurt hand wash - we had this in the office bathroom one time and I can't stop washing my hands.
I looked for Biomedics reviews on the net, and I haven't found a single negative review so it's hopefully great. I know it's a bit too late to be looking at reviews since I already bought a box, but hey, at least I looked before I wore them. Anyway, I test drive them tomorrow, so we'll find out then.
In the meantime, indulge me with another EQ failure: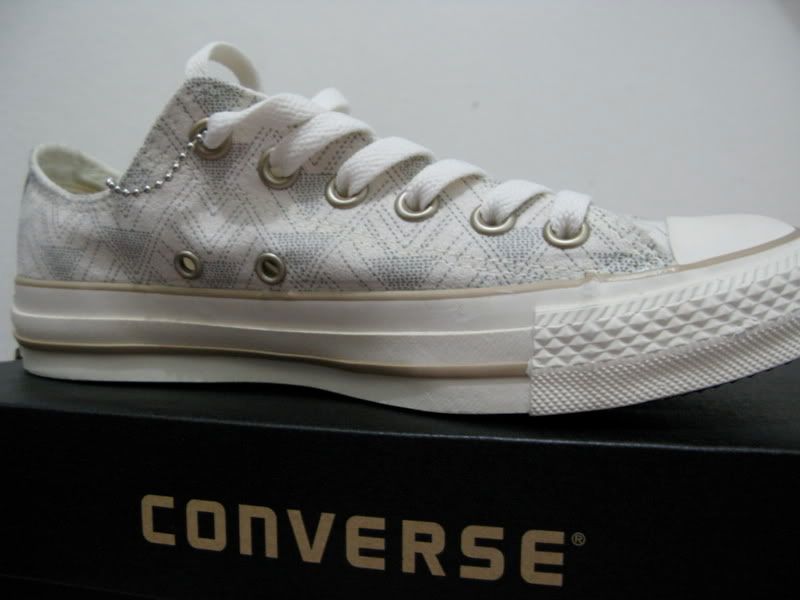 Chuck Taylors in Champagne and Milk.
The material is suede-like, which means it's probably hard to clean.
So I'm probably wearing it once a month, tops.
But I love it, regardless.