I'm trying to remember what made me get a Groupon voucher for unlimited KPL sessions, but I guess as with all impulse buys it was low EQ coupled with boredom. Although I must say, the prospect of permanently hair-free underarms is a very attractive one, yes?
Anyway.
So I bought a Groupon voucher for unlimited underarm or upper lip KPL sessions at this place called Regina. KPL (krypton pulsed light) is a hair removal technology similar to the more popular IPL (intense pulsed light). You can read all about it
here
, but ideally what happens is your hair stops growing after a couple of sessions.
I've never tried any of Regina's services before, but they seem to be quite popular. In fact, the branches nearest me are fully booked until November! So I had to book my appointment with their branch at The Central, which was just one (long) train ride away.
I was a good ten minutes late for my appointment because I came from the craziness that was the IT fair, but thankfully they kept my reservation. For the first session I had to undergo a consultation, wherein they explain the entire procedure and other noteworthy stuff, like how you have to wait for 8 weeks before your next session, and how you're not allowed to wax or epilate once you've begun the treatment (and you're also not supposed to do that two weeks before your first session).
Afterwards I went to the treatment room and I was instructed to change into something similar to a spa wrap. The room was very clean, but not eerily so. Although it was quite disconcerting to lie down on a bed covered with what appears to be a thick sheet of plastic cover.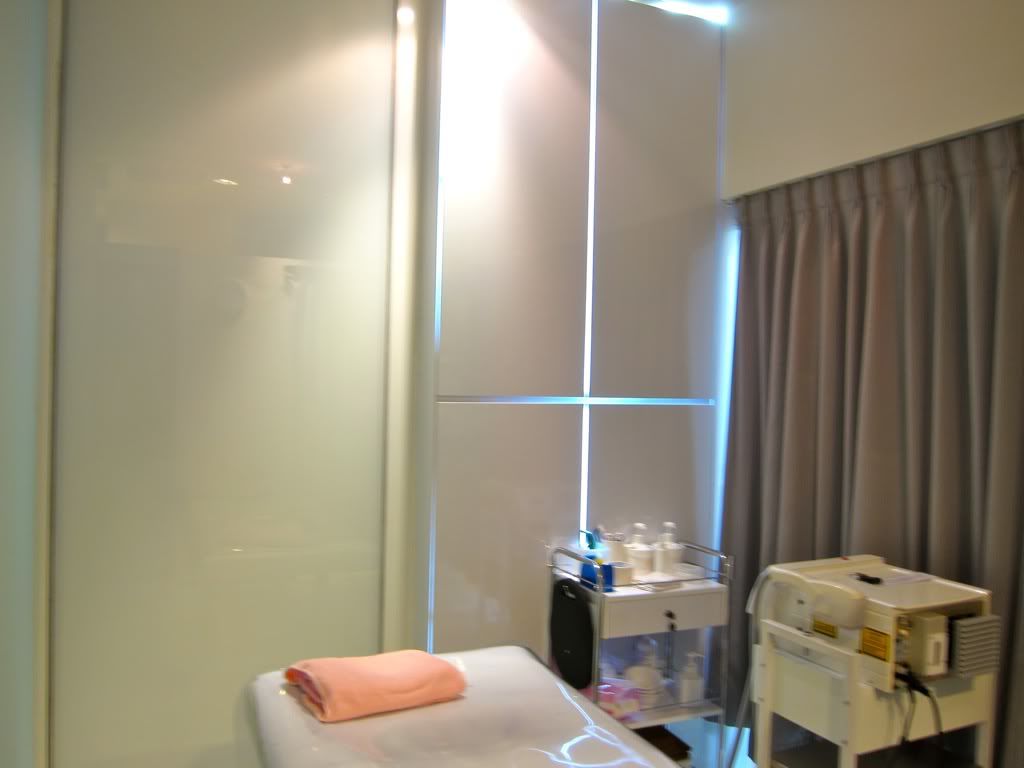 Prior to starting the treatment, they first perform a patch test to see if I had any allergic reactions. Only afterwards did they start with the KPL session. It was very quick actually - no more than 5 minutes, tops. First they shave the area with an electric shaver, and then they spread a cooling gel (which supposedly has whitening properties too), and then they give it a few blasts of the KPL machine. They do make you wear protective shades to prevent any damage to your eyes. Afterwards they place what I can only assumer are ice packs (like the ones that go inside the insulated carrier bags for Royce chocolates) on the treated area, and they leave this on for a couple more minutes. And then they slather the area with moisturizer and you're all set.
There was very little pain from the KPL pulses, and if you compare it to epilating or waxing I'd say it's virtually negligible, although there is that cloying scent of burnt hair. The hardest thing for me, if I'm being perfectly honest, is trying to keep my composure - I'm not the most ticklish person in the world but if someone spreads cooling gel on my underarms it's so hard to keep from laughing.
I would also like to point out that the service at Regina very satisfactory, and the staff was very mild-mannered and attentive, much like what you would expect from a Japanese establishment. And they are not pushy at all, nor do they sell you any add-on products which I very much appreciate. Aaaaand they have yummy yummy candies at the receptionist's desks (I feel I have to say these because I must've munched on ten of those during my short short stay).
As for the results, I can't comment right now because I've only had one session, but I'm keeping my fingers crossed.