This is a bit of a shock. I just didn't expect it to happen to me - I follow beauty blogs almost religiously, I do my research, and I know better than to purchase an 18-pan Mac eyeshadow palette with sponge applicators. I've also bought stuff from
Strawberrynet
three times prior to this, and I was pretty happy with my purchases, so I've always just assumed they're legit. And then today happened.
I ordered two Mac eyeshadows because I have empty slots in my new Mac Pro quad I had to fill. I wanted matte shadows since I already have all the glitter I'll ever need from the Urban Decay Naked Palette, and I found some limited edition ones available at
Strawberrynet
. Score! I placed the order last week, and I picked up my parcel today from the post office.
The moment I took the pots out of the box my first thought was: fake. It's like straight out of Malcolm Gladwell's Blink. But I convinced myself I was just being paranoid - it's a reputable website, after all, and who made me Mac eyeshadow packaging expert when I've only ever owned four? Besides, I was so excited to complete my quad. So I proceeded to depot the shadows. And make a couple of swatches for my blog. Except I can't get the new shadows to swatch properly, which is strange. See, I bought Signed Sealed, a Matte2 shadow. It's supposed to be creamy, pigmented, and very very matte (it's not called matte squared for nothing). The one I have is gritty, sheer, and has tiny flecks of glitter. Crap. Upon closer inspection, yep, I have just purchased two fake Mac eyeshadows.
The giveaway? The font.
Exhibit A: The label at the bottom of the eyeshadow pot
Fakes on the left, authentic ones on the right . Very significant difference in typography, as well as color. The fake ones have creamy white letter, the authentic ones have some sort of sheen to them.
Exhibit B: The boxes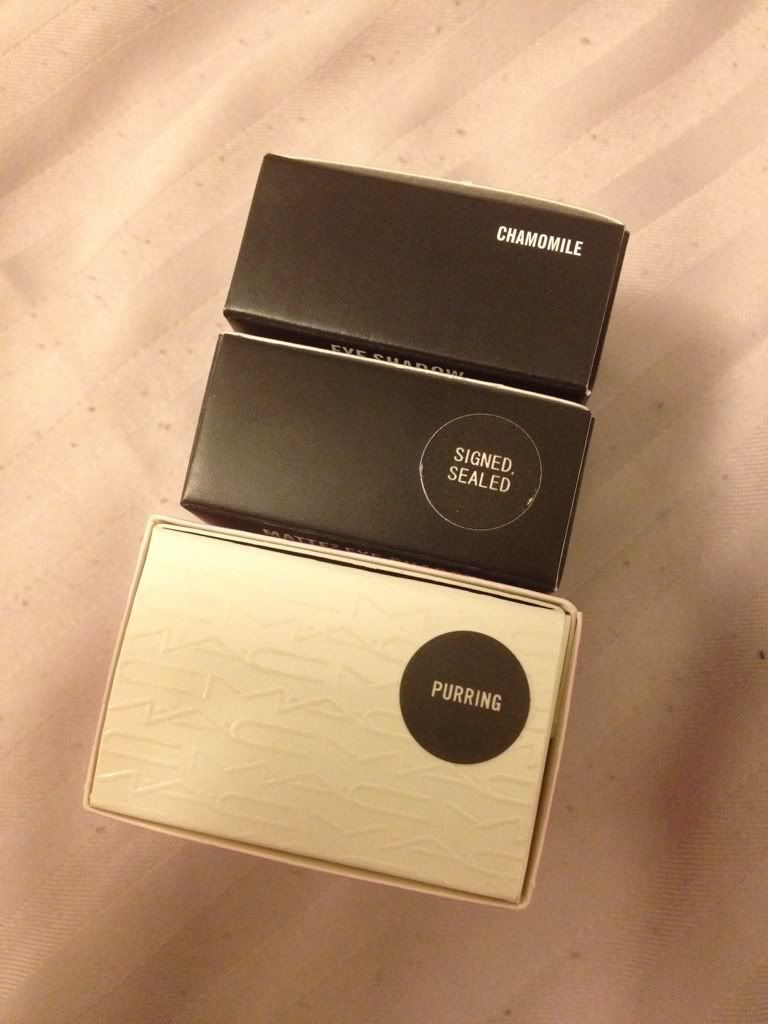 Fake boxes on top, authentic box on the bottom (it's a Mac tendertone box, though, because I threw away my eyeshadow boxes). Font difference is not that obvious, but it's there nonetheless. Plus, Chamomile is printed on the box instead of on a sticker.
Other than that, the similarities are alarming. They even have very convincing batch codes that correspond to the year the shadows were launched. The pots are a bit off, but it's something you can confirm only if you compare it side by side with original ones, and even then it's not easy to tell.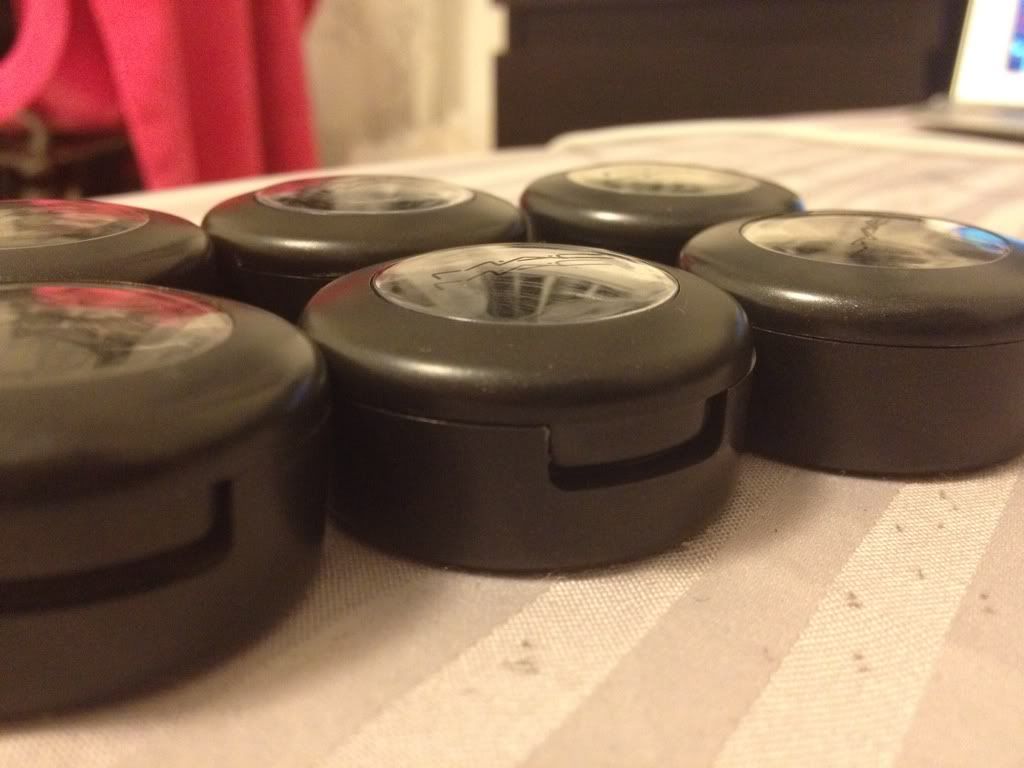 Fake pots in the middle. The clear plastic part at the top is a bit more raised.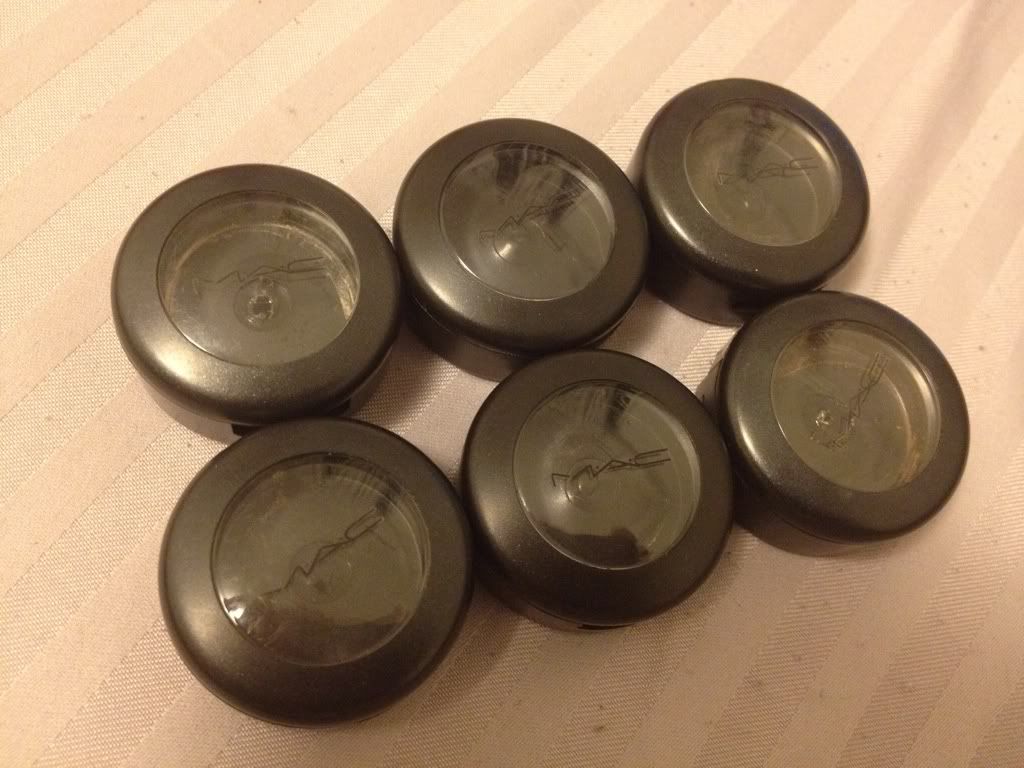 The fake pots also appear bit more black and plasticky looking. But I concede that it could also be my eyes just playing tricks on me.
I went through so many possible explanations that could account for the differences - these were launched a while ago so maybe they used different labels then, these are old shadows from previous collections hence the poor texture - but I think it's pretty clear I've been duped. And to make things worse, I can't get a refund because I depotted them already. It's actually such a shame because my quad looks so pretty, but now I'm scared to use the two colors because I have no idea where they're from (or what they're made of).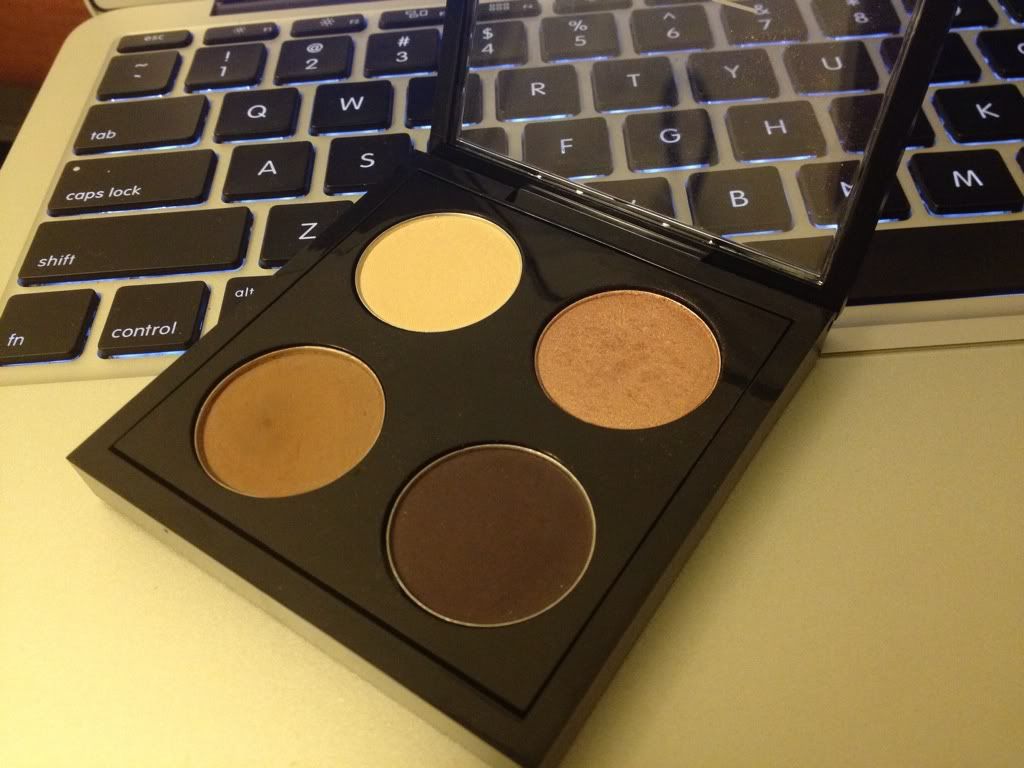 Needless to say, I won't be ordering from that site every again, and I suggest you don't as well. The prospect of getting limited edition stuff or saving a couple of bucks is just not worth the risk of getting a fake product.
So I visited two MAC counters today and asked the (thankfully) nice SAs to verify if the shadows are authentic. One said no, the other said yes. Go figure. I've also contacted the website and as per their CS rep:
Our website has been in operation for over 10 years and is based on providing high quality, genuine items at discount prices with free worldwide shipping. We do not, have not and will not sell anything other than 100% genuine items.
So there. I'm not going to try and have these authenticated at any other MAC counters anymore because what I realized from all of this is that the only way for me to have peace of mind is to get my stuff from official retailers.